Rückblick main.IT 2017:
Think digital!
Wie profitieren Firmen von digitalen Möglichkeiten? Rund 400 Teilnehmer der IT- und Media-Branche aus Würzburg und Umgebung fanden es heraus, bei der main.IT 2017 – der Konferenz für IT und Media – am Donnerstag, den 28. September bei der iWelt AG in Eibelstadt. Gemeinsam mit FMS Computer lud der Internet-Dienstleister zur wichtigsten Anwenderkonferenz in Mainfranken ein.
Die thematische Bandbreite war groß, unter anderem standen die Zukunft des Commerce, Data- und Security-Themen sowie revolutionäre Technologien auf der Agenda. Als besonderes Highlight erklärte Adrian Hotz, wie sich die Art, wie wir Geschäfte machen, durch Amazon, Alexa, Bitcoin und Co. für immer verändern wird. Weitere Referenten sprachen zu zukunftsweisenden Themen: Professor Michael Müßig von der Hochschule für angewandte Wissenschaften Würzburg-Schweinfurt stellte die Frage, ob Chatbots das neue Paradigma im Commerce sind. Jörn Watzke von Garmin beleuchtete die Potentiale und Risiken von Wearables in der voraussagenden Analyse. Ernst Schulten ging auf den Datenmissbrauch in der Big Data-Welt ein. Silvan Rath von predict.io und Gregor Stühler von scoutbee stellten Aspekte der künstlichen Intelligenz vor. Welche Branchen auf den Hype-Train der Blockchain Revolution aufspringen sollten, verriet Andreas Schütz. Best Practices standen im Mittelpunkt der Vorträge von Simone Emmerling (Richter+Frenzel) zu Virtual Reality, von Manja Kuntzsch und Jakob Schmitt (Kneipp) sowie von Dr. Alexander Bradel (Tegut)
zu Digitalisierungsprozessen. Kritische Sicherheitslücken in IT-Betrieben stellt Benjamin Kunz Mejri, Vorbild für den "Who am I"-Filmcharakter, vor. Workshops zu den Themen Datenvisualisierung mit dem Google Data Studio, Digitalisierungs-Tipps von IT-Berater Adrian Hotz sowie Live Hacking zum Erkennen von Web-Sicherheitslücken, lieferten Tipps aus der Praxis. Auch die begleitende Fachausstellung bot vielfältige Informationen und Innovatives aus allen Bereichen der IT- und Onlinewelt - nicht nur für Apple-Fans, SEO-Freaks und SEM-Professionals. Eingerahmt wurde das Programm von unterhaltsamen Highlights: Ein Cocktail-Roboter mixte Drinks, 3D-Drucker stellten Miniatur-Replikate der Besucher her - Automatisierung hautnah. Im Außenbereich lernten Besucher das autonome Fahren kennen. In den Pausen konnten interessante Kontakte geknüpft und bestehende aufgefrischt werden. Food-Trucks sorgten für kulinarische Abwechslung. Die Plattform diente dem professionellen Austausch, um mit frischen Ideen und Kontakten berufliche Herausforderungen heute und in der Zukunft meistern zu können.
Präsentationen zum Herunterladen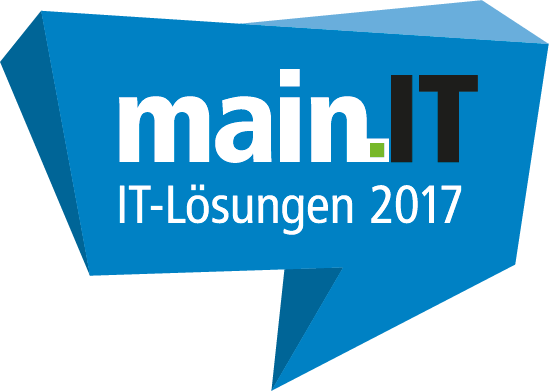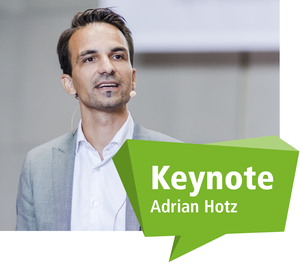 Adrian Hotz
Adrian Hotz unterstützt Unternehmen bei der Strategieentwicklung, beim Aufbau von E-Commerce Abteilungen und bei der operativen Umsetzung. Hersteller und Marken unterstützt er bei der Entwicklung von Marktplatzstrategien insbesondere in Bezug auf Amazon. Er ist Gründer und Geschäftsführer von www.connect-ecommerce.de, Partner bei eTribes, Gastgeber des Events www.be.insideecommerce.de und als Gründungsmitglied im Beirat von factor-a, ein auf Amazon spezialisierter Dienstleister.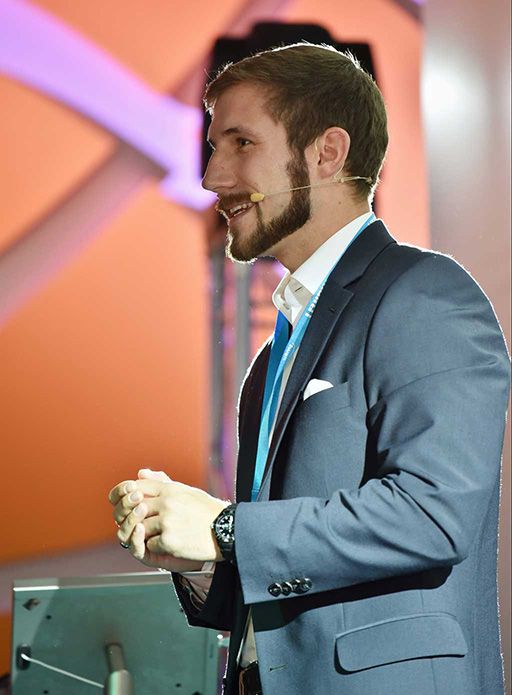 Moderation: Johannes "Keppi" Keppner
Geboren in den wilden 80ern: genauer gesagt im "strahlenden" Sommer ´86. Aufgewachsen an einem Ort, an dem immer Stau ist: direkt neben dem Autobahnkreuz Biebelried. Irgendwie war vorhersehbar, dass Keppi bleibende Schäden davontragen würde … Dass die Allerschlimmsten meistens eine Klosterschule besucht haben, ist ja auch schon längst kein Geheimnis mehr und ob die allgemeine Wehrpflicht positive Auswirkungen auf ihn hatte, bleibt sehr zweifelhaft. Und es war auch nur eine Frage der Zeit, bis der Klassenkasper und Stubenentertainer beim Radio landete. Weil als Student das Geld permanent knapp war und Unterhalten sein einzig vorzeigbares Talent, wurde er bei Radio Gong vorstellig und war schnell als rasender Reporter in der ganzen Republik unterwegs. Egal ob nachmittags zwischen 15-18 Uhr auf 106,9 oder an den Wochenenden aus den Basketballarenen in Nord, Ost, Süd und West – zu melden hat er fast immer was!

Frank Albert
IHK Würzburg-Schweinfurt
Frank Albert
---
IHK Würzburg-Schweinfurt
Digitalbonus.Bayern – Ein bundesweit einmaliges Förderprogramm zur Unterstützung von KMUs bei der Digitalisierung
Ist beruflich seit 2012 unter Anderem im Bereich Fördermittel tätig. Nach Stationen bei der EFRE Verwaltungsbehörde Baden-Württemberg und als Wissenschaftlicher Mitarbeiter am Technologie- und Gründerzentrum Würzburg ist er seit 2016 in der Industrie- und Handelskammer Würzburg-Schweinfurt als Referent für Innovation und Technologie unter anderem auch für Fördermittel zuständig. Er hat bereits viele Mitgliedsunternehmen bei der Antragsstellung diverser Förderprogramme beraten und begleitet. Neben diesem Aufgabengebiet ist er Ansprechpartner für Fragestellungen rund um Digitalisierung, Stichwort Industrie 4.0, und die Vernetzung von Wirtschaft und Wissenschaft. Im Zentrum für Digitale Innovationen (ZDI) Mainfranken bringt er sich für die Vernetzung von Startups zu Unternehmen ein. Er beendete seine akademische Ausbildung mit dem Abschluss Master of Business Administration MBA.

Dr. Alexander Bradel
tegut…

Dr. Alexander Bradel
---
tegut…
Was ist dran am Digitalisierungs-Mythos? Antworten anhand des Beispiels tegut…
Dr. Alexander Bradel ist promovierter Wirtschaftswissenschaftler mit starkem IT-Bezug und verfügt über mehr als 25 Jahre Führungserfahrung in verschiedenen Linienfunktionen und in der Beratung. Im Juli 2016 hat er die Rolle des CIO bei tegut… übernommen. tegut… ist ein mittelständisches, regional operierendes Handelsunternehmen im Lebensmittelsektor mit hohem Anspruch an hochwertige und biologische Lebensmittel, Transparenz und Kundenorientierung. Der Lebensmittelhandel befindet sich in einem starken Umbruch. Digitale Player dringen ein, neue Formen der Lebensmitteldistribution entstehen. Die Aufgabenstellung ist klar: die tegut… IT fit machen für den digitalen Wettbewerb. Daneben führt Dr. Alexander Bradel eine eigene Beratungsfirma mit Fokus auf digitale Transformation.

Alexander Dingendorf
Deutsche Post

Alexander Dingendorf
---
Deutsche Post
Intelligenter Kundendialog in einer digitalisierten Marketingwelt
Alexander Dingendorf studierte Wirtschaftswissenschaften mit dem Schwerpunkt Finance und absolvierte anschließend sein Masterstudium im Bereich Management an der Johannes Gutenberg Business School. Nach seinem Studium startete er seine Karriere bei der Deutschen Post DHL Group. Begonnen hat er als Management Trainee in den Bereichen: Transformations- und Prozessmanagement Post Deutschland, Business Development DHL eCommerce, Crossmedia und digitale Produkte Post Deutschland. Aktuell ist er Produktmanager für Digitale Kundenwerbung.

Simone Emmerling
Richter+Frenzel

Simone Emmerling
---
Richter+Frenzel
New Dimensions: Virtual Reality in der Badberatung
Simone Emmerling leitet seit 2014 die Abteilung E-Business bei Richter+Frenzel. Sie ist verantwortlich für die Initiative R+F DIGITAL, die es sich zum Ziel gesetzt hat, die Beschaffungsprozesse der Fachhandwerker optimal zu gestalten und neue Techniken ins Tagesgeschäft von Richter+Frenzel zu integrieren. Richter+Frenzel unterstützt seine Kunden beim Einstieg ins Online-Marketing und bietet darüber hinaus eigene Tools für das mobile Arbeiten an. Die Gründung der Initiative forum handwerk digital ist die konsequente Fortsetzung der selbst gesetzten Verantwortung, Handwerksbetrieben bei der Digitalisierung mit Rat und Tat zur Seite zu stehen.

Phillip Groschup
KIM Krick Interactive Media
Phillip Groschup
---
KIM Krick Interactive Media
Workshop
Phillip Groschup ist seit 2015 als Kampagnenmanager bei der KIM Krick Interactive Media GmbH tätig. Hier betreut er Kunden aus verschiedenen Branchen in den Bereichen Suchmaschinenoptimierung und Suchmaschinenwerbung. Außerdem ist er für den Bereich Call-Tracking verantwortlich. Phillip Groschup gehört zu den ersten Absolventen des noch relativ jungen Studiengangs E-Commerce der FH Würzburg/Schweinfurt. Seine Leidenschaft gilt neben dem Online-Marketing dem Webscripting und die Handhabung und Auswertung von Daten mit diversen Tools.

Manja Kuntzsch
Kneipp

Manja Kuntzsch
---
Kneipp
Digitalisierung bei Kneipp – (k)ein Sprung ins kalte Wasser
Manja Kuntzsch leitet bei Kneipp den Bereich Digital Media. Die Schwerpunkte Ihrer Arbeit liegen beim Multichannel Commerce und der IT-Integration. Im Vorfeld war Sie mehrere Jahre in der SAP Beratung tätig. Die studierte Wirtschaftsinformatikerin arbeitet seit 2013 bei Kneipp.

Jörg Madloch
ISC

Jörg Madloch
---
ISC
Reaktivierung von schlafenden Kunden. Kunden-Rückgewinnungsmanagement mit SugarCRM und CleverReach
Jörg Madloch verfügt über mehr als 25 Jahre Erfahrung in den Kundenbeziehungs- und Vertriebsmanagement-Systemen. Als Geschäftsführender Gesellschafter der ISC it & software consultants GmbH mit Sitz in Nürnberg zeichnet er mit seinem Team verantwortlich für alle Aktivitäten rund um das Produkt SugarCRM. ISC ist SugarCRM Platinum Partner und konzipiert und implementiert praxisorientierte, zuverlässige CRM-Systeme, mit denen Unternehmen komplexe Aufgaben und Prozesse effektiv und kostengünstig meistern.

Christian Malik
Haibike

Christian Malik
---
Haibike
Connected e-bike of the future
Christian Malik ist seit 2001 bei der Winora Group tätig. Beginnend als Assistent der Vertriebsleitung wurde er 2006 zum Product Manager ernannt. Die weiteren Stationen während seiner Tätigkeit bei der Winora Group waren die des Global Sales Manager und Senior Product Manager. Im April dieses Jahrs wurde er zudem zum Head of Research & Development and Product Management ernannt.

Benjamin Kunz Mejri
"Who am I" – Filmcharakter
Benjamin Kunz Mejri
---
"Who am I" – Filmcharakter
Kritische Sicherheitslücken in IT-Betrieben
Benjamin Kunz Mejri (* 6. Mai 1983) ist ein deutscher IT-Sicherheitsspezialist und Penetrationstester. Zu seinen Forschungsgebieten gehören Sicherheitslücken in Computersystemen, Bug Bounties, die Sicherheit von E-Payment Zahlungsdiensten und der Schutz der Privatsphäre. Mejri ist bekannt dafür, neue Sicherheitslücken aufzudecken und diese transparent zu veröffentlichen. Benjamin Mejri arbeitet als Geschäftsführer der in Hessen – Kassel Wilhelmshöhe ansässigen IT-Sicherheitsfirma "Evolution Security GmbH".

Prof. Michael Müßig
FH Würzburg-Schweinfurt

Prof. Michael Müßig
---
FH Würzburg-Schweinfurt
Conversational Commerce – Chatbots first als neues Paradigma?
Prof. Dr. Michael Müßig ist in der Fakultät Informatik und Wirtschaftsinformatik an der Hochschule für angewandte Wissenschaften Würzburg-Schweinfurt verantwortlich für die Themen Unternehmensgründung und -führung aber auch für Geschäftsmodellentwicklung und das Management digitaler Innovationen. Er ist Co-Founder des Magazins Website Boosting und als Business Angel aktiv. Im Rahmen von gründen@würzburg coached und unterstützt er Gründer aus der Region.

Manfred Pfeifer
KEMP Technologies

Manfred Pfeifer
---
KEMP Technologies
Evolution der E-Mail - Praxisbeispiel über die Entwicklung von der Schreibmaschine zur Cloud
Manfred Pfeifer unterstützt seit 2015, als Presales Consultant bei KEMP, die Kunden und Partner. Als technischer Betriebswirt liegt ihm ein gutes Preis-Leistungs-Verhältnis der angebotenen Lösungen am Herzen. Aufgrund seiner Erfahrungen bei Application Delivery Controllern sowie Security -und Penentration Testing kann er die Kunden ganzheitlich beraten. Durch seine früheren Tätigkeiten bei Citrix und Spirent Communications hat er sich dafür eine gute Grundlage geschaffen.

Dr. Elke Radeke
Incony

Dr. Elke Radeke
---
Incony
PIM wozu? Produktdaten strukturiert und effizient pflegen zahlt sich aus!
Frau Dr. Radeke hat im Bereich Datenbanken promoviert und ist seit 1996 mit Ihrem Team im Bereich der effizienten Produktdatenpflege bei Incony AG tätig. Mit Ihrem mehrfach ausgezeichneten PIM-System ANTEROS pflegen inzwischen zahlreiche große und kleine Firmen aus unterschiedlichen Branchen Produktdaten und Bilder. Die Magento-Schnittstelle macht die Daten in Webshops nutzbar, eine Printengine ermöglicht automatisiert aus den Daten Printkataloge, Preislisten und Datenblätter zu generieren.

Silvan C. Rath
predict.io
Silvan C. Rath
---
predict.io
Why Artificial Intelligence is Like Teenage Sex
The Berlin-born has worked for American technology disruptors since 2006. He has been with Cisco Systems while online video was turbo boosting the network requirements. A time when the only challenge was to get more supply out of the factories. During his time with Comscore he helped leading brands take advantage of cutting edge Online Analytics. At eBay he built an all new Business Unit helping classical retailers to navigate the changed landscape. He worked with the world's largest retail groups and brands to establish multichannel strategies. His inspiring speeches regularly deliver >80% Net Promoter Scores among industry professionals.

Ernst Schulten
Ernst Schulten
---
Online ausgenutzt, offline ausgeliefert – Datenmissbrauch in der BigData-World
Ernst Schulten (Jahrgang 1974) ist gelernter Betriebswirt und Wirtschaftsinformatiker. Seit 2012 leitet er den Career Service an der Aschaffenburger Hochschule, darüberhinaus doziert er weltweit zu den Lehrgebieten Social-Media-Management und SAP. Seit Anfang 2013 nutzen Schulen sein Übungs- und Simulationssystem für soziale Netzwerke classbook (www.classbook.org) inkl. mehrerer kindgerechter Fallstudien. Seit November 2014 ist Herr Schulten regelmäßig Keynote-Speaker und Podiumsteilnehmer zu den Themen "Datensicherheit im Internet – der gläserne Nutzer".

Andreas Schütz
FH Würzburg-Schweinfurt

Andreas Schütz
---
FH Würzburg-Schweinfurt
Blockchain Revolution – Welche Branchen auf den Hype-Train aufspringen sollten
Andreas Schütz arbeitet an einem Ort, an dem neue Technologien sofort unter die Lupe genommen werden: Der Hochschule für angewandte Wissenschaften Würzburg-Schweinfurt (FHWS). Seit 2011 ist er dort an der Fakultät Informatik und Wirtschaftsinformatik beheimatet, erst als Student und jetzt als Mitarbeiter. Neben dem Thema Informationssicherheit begeistert er sich seit einigen Jahren für die Blockchain-Technologie. Auf seiner Homepage Etherbasics (www.etherbasics.com) bieten er und sein Team einfache Tutorials und Erklärungen zu dem Blockchain-Projekt "Ethereum" an. Im vergangenen Jahr hat er seine Kontakte in die Szene genutzt um ein Blockchain-Barcamp an der FHWS zu organisieren. Dies legte den Grundstein für verschiedene studentische Arbeiten und Projekte, die die Technologie tiefergehend untersuchen.

Jonas Spieckermann
WatchGuard Technologies

Jonas Spieckermann
---
WatchGuard Technologies
WLAN Hacking leicht gemacht – Wie schütze ich mich?
Jonas Spieckermann (geboren 1985) ist als Senior Sales Engineer bei WatchGuard Technologies für die Regionen Deutschland West und Osteuropa zuständig. Bereits seit über 10 Jahren befasst er sich vor Allem mit Konzepten und Lösungen im Bereich IT-Sicherheit. Nach langjähriger Beschäftigung als System Engineer bei einem WatchGuard Partner ist er seit 2012 für den US-amerikanischen Hersteller tätig. Neben der primären Aufgabe als Senior Sales Engineer nimmt er zusätzlich eine Position als Security Evangelist im virtual CTO Team bei WatchGuard Technologies ein.

Christian Stadler
Cornea Franz Rechtsanwälte
Christian Stadler
---
Cornea Franz Rechtsanwälte
Markenschutz im Internet – Möglichkeiten digitaler Markennutzung und -verletzung
Christian Stadler ist Rechtsanwalt bei der Wirtschaftskanzlei Cornea Franz Rechtsanwälte. Er ist Absolvent der Rechtswissenschaften an der Julius-Maximilians-Universität Würzburg mit ersten und zweiten Juristischen Staatsexamen in Würzburg. Zusätzlich absolvierte er ein europäisches Begleitstudium mit Abschluss Europajurist (Univ. Würzburg) an der Julius-Maximilians-Universität Würzburg.

Gregor Stühler
scoutbee

Gregor Stühler
---
scoutbee
Gewinner Startup-Preis Würzburg 2017 | Die gläserne Lieferkette – Wie die KI den Einkauf revolutioniert
Gregor Stühler ist Geschäftsführer und Co-Founder der scoutbee GmbH. Nach Studium in Deutschland, USA und England, beschäftigte er sich als Projekt-Ingenieur in der Automatisierungstechnik mit der Verarbeitung großer Datenmengen. 2013 wurde er Berater für das Thema Business Intelligence im Einkauf und gründete 2015 die scoutbee GmbH. Heute hat das Unternehmen 17 Mitarbeiter in 6 Ländern und unterstützt Unternehmen > 1 Mrd. EUR Umsatz bei der Innovation und Sicherung der globalen Liefernetzwerke.

Jörn Watzke
Garmin

Jörn Watzke
---
Garmin
Potentials, risks and limitations of wearables for predictive analytics
Jörn Watzke leitet seit dem April 2014 den globalen Vertrieb B2B Health bei Garmin. Zuvor war er langjährig für das Mobile Navigationsgeschäft bei Garmin und das Produktmanagement für alle Businessbereiche der NAVIGON AG verantwortlich. Jörn Watzke ist seit über 20 Jahren in der Consumer Electronic Industrie tätig. Nach dem Studium der Informationstechnik begann er seine Karriere zunächst bei Siemens. Dort war er insgesamt elf Jahre tätig, zuletzt in verschiedenen Leitungsfunktionen.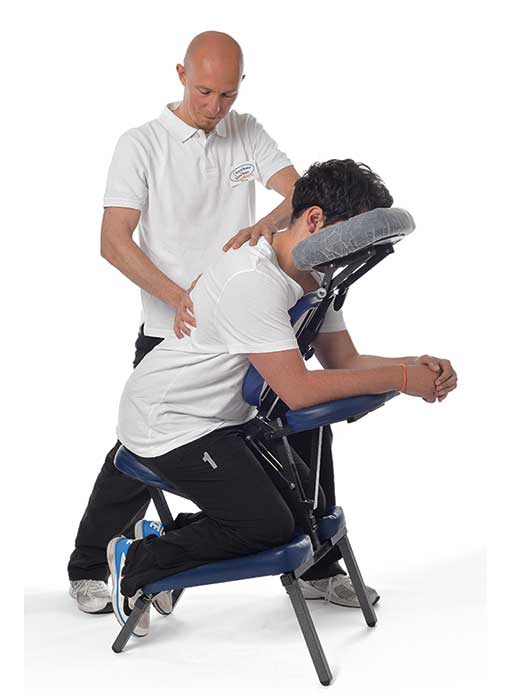 Locker vom Hocker
Der Klassiker der betrieblichen Gesundheitsförderung: Die mobile "Refresh-Massage" am Arbeitsplatz! Diese Form der Büromassage wird ohne Öl durchgeführt und besteht aus Grifftechniken der klassischen Massage und einer Druckpunkttechnik aus dem Shiatsu, welche durch die Kleidung mit Dehnungen bis in die tief liegende Muskulatur ausgeübt wird. - löst muskuläre Verspannung - baut Stress ab und erfrischt! Mehr Informationen unter www.lockervomhocker.com